The City of Lakewood is home to three retail trade areas. They include the International District, Lakewood Station District (adjacent to Interstate 5 between SR 512 and Bridgeport, along Pacific Highway), and the Downtown.
Lakewood is a growing city, planning for another 20,000 residents by 2044. We're building a truly walkable downtown with art and cultural amenities, enhanced parks and recreational activities, restaurants, pubs and wine-tasting rooms, retailers, and fun for the whole family. A good portion of the commercial and residential development is planned for the Downtown subarea.
Right on I-5, with connections to major transportation networks, the Lakewood Station District Subarea has over 100 housing development units in the pipeline, both market-rate and affordable. The plan for this district envisions a multi-modal commuter hub at the southern terminus of Sound Transit's commuter rail service, providing an amenity-rich, transit-oriented development node surrounding the Lakewood Station with access to regional rail and freeway transportation. Residents will need more shopping options close to home, and travelers can easily access these businesses right off the interstate.
Both the Downtown and Station districts in Lakewood are targeted growth areas, looking to attract mixed-use businesses.
Lakewood Towne Center has retail space availability, with more coming online as commercial retail building is added to this mixed-use center.
Colonial Plaza, also in Downtown, was built in 2019 as a catalyst project for future development. This is a cultural hub and gathering space for night markets, festivals, galas, art walks, and more. Properties adjacent to the Plaza are being redeveloped with more opportunities for retailers who want to be in the heart of this burgeoning center.
Lakewood is becoming stronger in attracting retail business from outside the city, as noted by the increase in pull factor from 2014 to 2020. There is a demand for local and unique retailers.
One especially beneficial program for local startups is the Pierce County BIPOC Business Accelerator. BIPOC and female entrepreneurs can benefit from grants and assistance to help their businesses get up and running. The City of Lakewood contributes to the program with American Rescue Plan Act funds.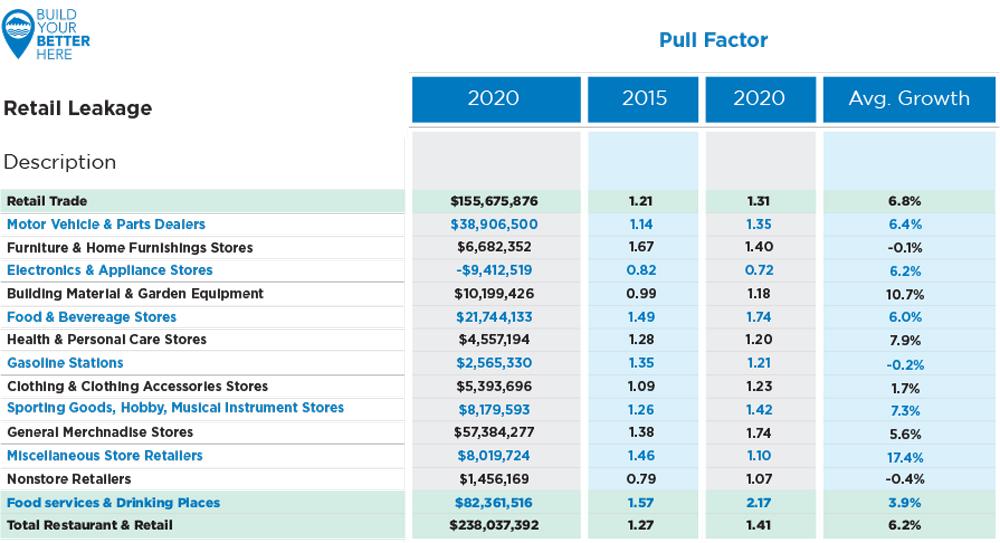 Retail Leakage Pull Factor in Lakewood
Boo Han Market
Meet Jae Han, owner of Boo Han Market.
Since its beginning in the late 1970s, Boo Han Market has grown from a small grocery store, to become the bustling heart of Lakewood's International District. The business sought to provide popular products for its then primarily Korean customers.
Today, Boo Han Market offers fresh produce, meat, seafood, and more. They offer a wide variety of products from across the globe, and always strive to source foods that customers are seeking.
Lakewood is home to one of the largest International Districts in Washington State, featuring markets, restaurants, and other retail businesses. It is a popular destination for Lakewood residents, and visitors from nearby cities.
For owner Jae Han, Lakewood, WA has been a great place to live and work. As an individual, he has developed a strong sense of community. As a business owner, he has received support from the business community throughout Lakewood, and empowerment from the city to grow and develop the market.
Classy Chassis
Meet Corey Campbell, owner of Classy Chassis.
For over a decade before Lakewood achieved cityhood status in 1996, Classy Chassis was offering premium care care services.
What began as a single car wash on Custer Road has expanded to include service locations throughout the Puget Sound area, Xpress Lube centers, a coffee chain, and even self-service dog washes.
The Classy Chassis team has watched as Lakewood has blossomed into the thriving city it is today. From physical improvements like sidewalks and road maintenance, to the development of a pro-business city government, Lakewood has become an excellent place to start or grow a business. Lakewood has invested over $100 million in capital improvements over the past 20 years. The primary focus has been on the City's major corridors to help improve safety, traffic flow, aesthetics, and multi-modal access. As of 2021, $150 million in additional infrastructure is planned, including curbs, sidewalks, and bike lanes to enhance connectivity.
Businesses in Lakewood profit from the absence of a local Business and Occupation (B&O) tax and traffic impact fees, which are imposed by many Washington state cities.
For Corey Campbell, the business support in Lakewood aided him to grow his business into the success it is today.
Key tips for developing in Lakewood
Hire qualified contractors licensed to do business in Lakewood.
Submit quality detailed plans, and stick to the plans.
Project management is key, particularly with large complex developments.
Take advantage of our low-cost pre-application process to get all of your questions answered.
Pay attention to the details in our municipal code. Lakewood has three development code sections, 18A Land Use and Development Code (general codes); 18B Downtown Development Code, and 18C Stations District Development Code.
Communicate often with key staff members, particularly if there are any changes.
Developing in Lakewood